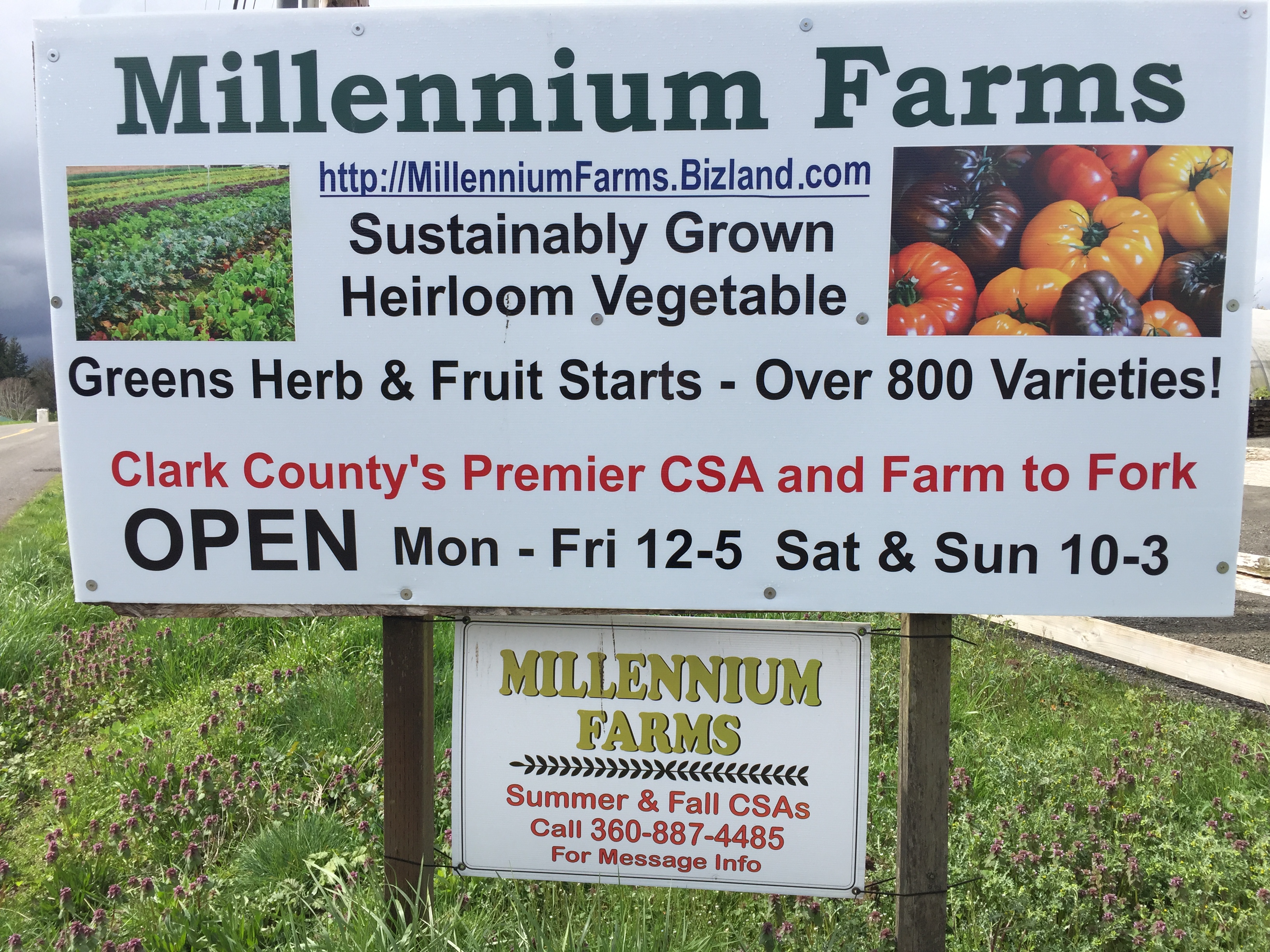 Welcome to the Millennium Farms website.

Our motto is: "Where flavor comes first."
Here you can find vegetables, herbs and fruits like you remember from your family's garden years ago. We are Ridgefield's and Clark County's first and premier farm-to-restaurant farm-to-fork grower and partner for over 20 years. See our Restaurant/Commercial Produce Availability Page for further info.
We've been growing here in the Northwest for over 20 years, and know which varieties of vegetables, herbs, greens and fruit do best year-in and year-out in the Greater Vancouver/Portland area. Instead of too many varieties to chose from, we have filtered our lists so you benefit from our experience on which variety for each type of plant to grow! Even so, we have over 100 varieties of tomatoes and peppers alone, among our over 500 varieties of plants, and each are best in this area for a particular use.
June 7 Update
The Nursery is now CLOSED for the season, and a huge thank you to all of our loyal customers who helped make this our best spring ever. We are considering opening in July our Produce Stand here at the farm under the Green Barn roof, as in the past, so stay tuned! There are still a couple of slots left in our CSA - see below.
SUMMER and FALL 2017 YOU-CHOOSE WEEKLY PRODUCE PROGRAM
Besides being a Plant Nursery in the Spring, Millennium Farms is also a FARM YEAR-ROUND, and Southwest Washington's FIRST AND PREMIER FARM-TO-TABLE SOURCE. We grow healthy food, for restaurants, companies and institutions, offered through our 6 day-a-week delivery program, and for individuals through our novel YOU CHOOSE PRODUCE PROGRAM which is available for subscription. We have a few more openings for the SUMMER and FALL 2017 CSAs, so SEE THE 2017 CSA PAGE and email us for more info and/or the sign-up form. The first delivery day is May 30 and there are only a few openings left, so contact us for the sign-up form and get them in soon.
Check out our new Facebook page:
Nursery News Update April 2017
We have 20 Ultra-Hot varieties this year, ALMOST TWICE THE SELECTION OF LAST YEAR.The Ultra-hot Peppers are available at the Farm. 6 month, 1 year and some 2 year old plants are available. THIS YEAR'S SELECTION INCLUDES MOST OF THE WORLD'S 10 HOTTEST PEPPERS, and some of them in 1, 2 and even 3 gallon sizes! Check out the 2017 List!
This season we have FOUR NEW TOMATOES TO OFFER: the CHEF'S CHOICE GREEN, ORANGE AND PINK and the INDIGO KUMQUAT, each a notable addition and good performer. The CHEF'S CHOICES are modern improvements of classic green, orange and pink heirlooms but superb sugar and acid flavor and better yield. The INDIGO KUMQUAT is a heavy yielding cherry with very sweet flavor and a surprising kick of acidity. A great companion to the venerable Sungold Cherry.
Our fruit starts are huge already. Here's just a sample of what we've got now: 7 kinds of Raspberry; Blackberry; Loganberry; Olalie berry, 10 kinds of Blueberry; Red Black and White Currant; Jostaberry; Elderberry; Gojiberry; Gooseberry; Haskap Berry; Huckleberry; Ligonberry; Marionberry; Golden Raspberry; Tayberry; Campbell grape; Candida seedless grape; Concorde grape; Flame seedless grape; Glenora seedless grape; Golden Muscat grape; Lakemont Seedless grape; Niagara seedless; Pinot Gris; Pinot Noir; Remaily grape; Steuben grape; Suffolk red seedless. WOW!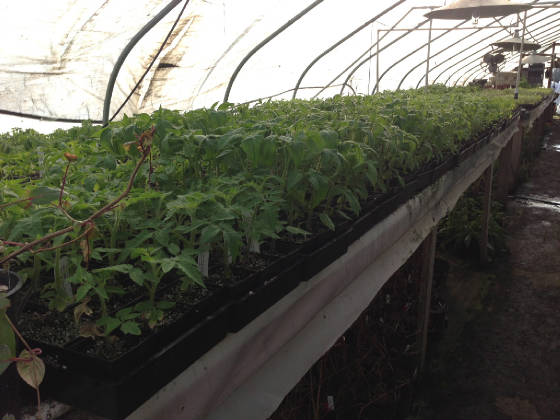 As big as they've ever been this early!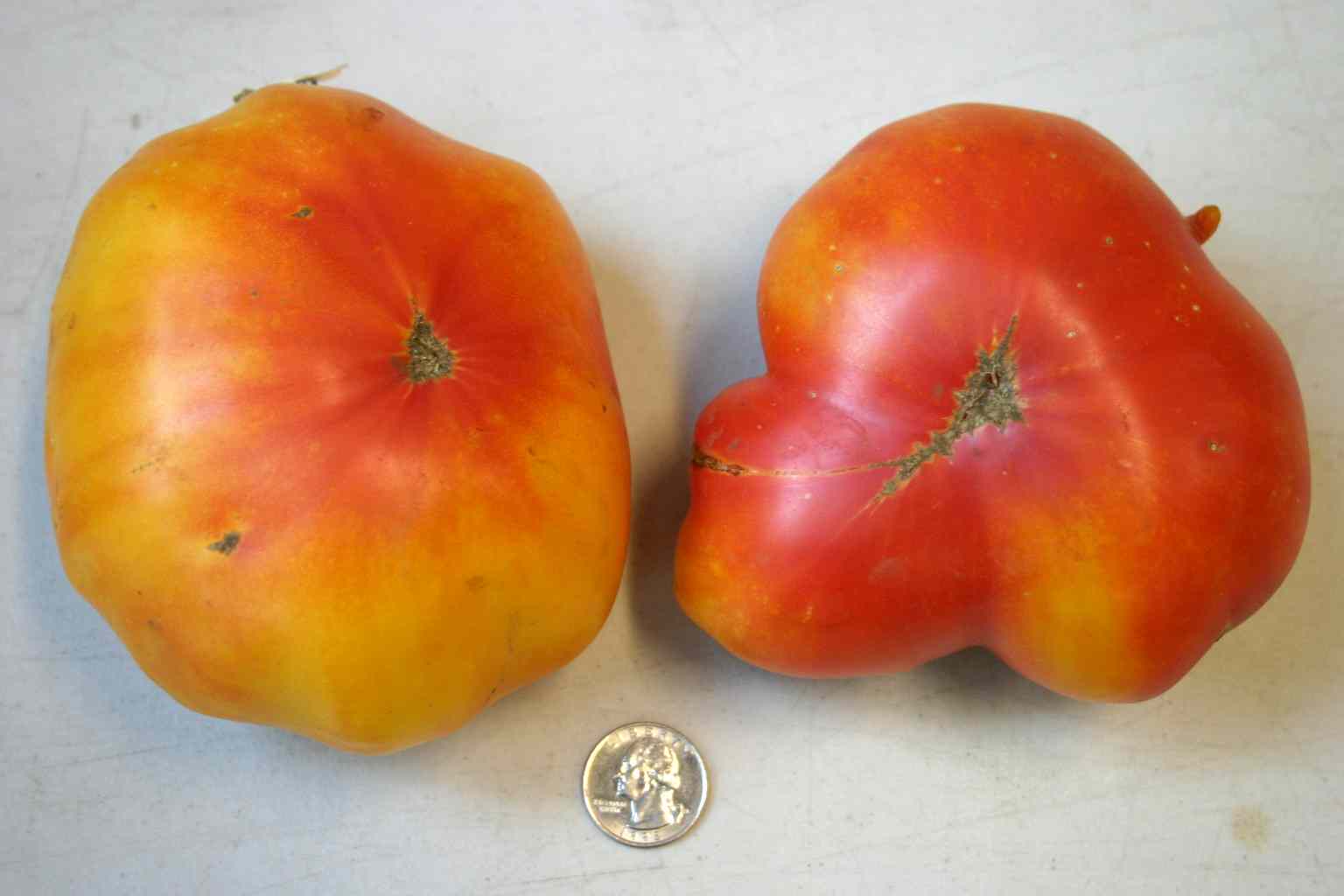 The back to back winner of the West Coast's largest tomato taste contest. In 2004 AND 2005 the classic heirloom tomato Pineapple won Territorial Seeds' Tomato Tasteoff, which is a double-blind taste where the judges cannot see nor ask questions about the tomatos they sample. It's strictly won on flavor and Pineapple won it two years running; a feat unlikely ever to happen again. Yes they really are that big, and have that ohmigosh flavor...Old German is thought to be a related heirloom tomato, as it is a red base with yellow and orange versus the yellow base with red and orange of the Pineapple...both stellar tomatoes!
Some folks don't believe how much our plants grow. Below are some photos from Tom Lipman in Hillsdale which will show you how fast (and how big) they grow... Thanks a lot Tom! And take a look at the last photo...all of that in JUST ONE DAY'S harvest!