Welcome to the Millennium Farms website.

Here you can find vegetables, herbs and fruits like you remember from your family's garden years ago. Our motto is: "Where flavor comes first."


Thanks for a great 2013 season. The Nursery is now closed and we are busy planting any vegetable starts that were left over. We will re-open soon for Produce sales - we will post the days and hours here soon. Please check back!

5/23/13 POULTRY UPDATE: The turkeys are here and these breeds will have more breast meat and still have that outstanding flavor. They will be butchered and available FRESH, NOT FROZEN 2-3 days before Thanksgiving. Put your name on our Order List now to reserve yours either at Nursery or at our booth at VFM. We are also now taking reservations for our Pekin Ducks and French Chickens.

Thank you to all of you who ordered and bought our wild, free-ranging Heritage turkeys. Ours was the best we had ever tasted, liklely owing to their old bloodlines and their using all of their muscles in moving around. We will definitely be growing more for next year, with a couple more varities, so email us to reserve one for next year. We are also going to be growing those fantastic Cordon Rouge style Poulet Fermier chickens year-round as well as ducks. Stay tuned!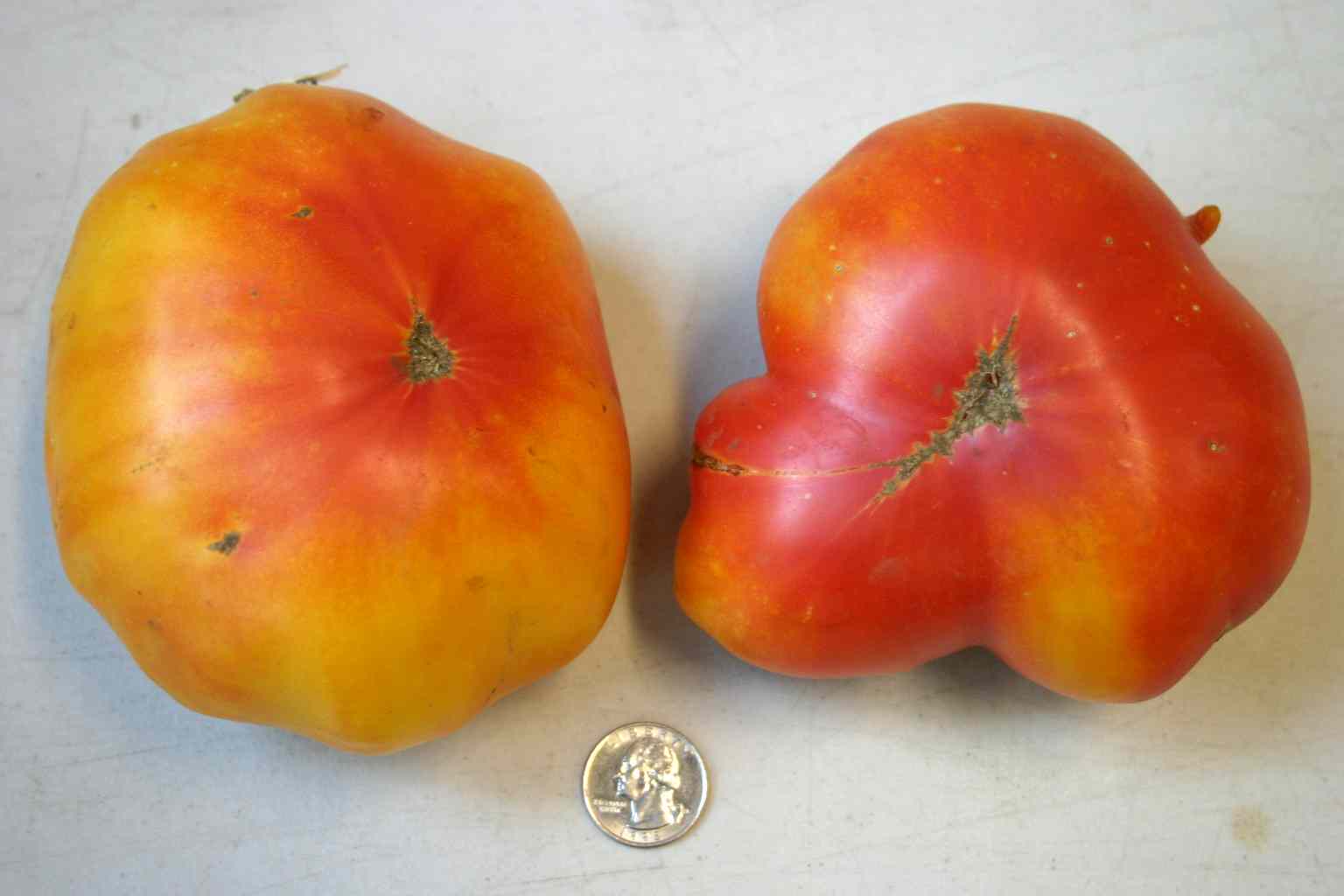 The back to back winner of the West Coast's largest tomato taste contest. In 2004 AND 2005 the classic heirloom tomato Pineapple won Territorial Seeds' Tomato Tasteoff, which is a double-blind taste where the judges cannot see nor ask questions about the tomatos they sample. It's strictly won on flavor and Pineapple won it two years running; a feat unlikely ever to happen again. Yes they really are that big, and have that ohmigosh flavor...Old German is thought to be a related heirloom tomato, as it is a red base with yellow and orange versus the yellow base with red and orange of the Pineapple...both stellar tomatoes!
Some folks don't believe how much our plants grow. Below are some photos from Tom Lipman in Hillsdale which will show you how fast (and how big) they grow... Thanks a lot Tom! And take a look at the last photo...all of that in JUST ONE DAY'S harvest!